---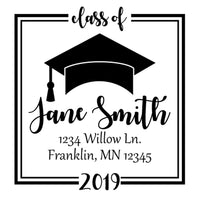 Personalize your graduation correspondence with a custom stamp! Save time and no more hand cramps! Your stamp will make sending announcements just as exciting as getting mail!
Information to be changed:
          Name: Information here will replace Jane Smith
          Address: Information here will replace 1234 Willow Ln.
          City, State, and Zip Code: Information here will replace Franklin, MN 12345
          Graduation Year: Information here will 2019
Production: Please enter your information exactly as you would like it to appear, including punctuation. Letter case will remain as shown in design. We will not be able to refund or exchange for incorrect information, so double check before hitting submit! Our designer will look over your stamp to make sure it looks great before it is produced! Some sizing or font change may occur to accommodate long names or addresses.
Stamp Options: More Details on our Stamp Options Page
          Stamp set: Stamp is mounted on a plate and installed in a square self inking machine. Black ink cartridge is included.
          Wood Mounted: Stamp will be mounted on a square wood block. You will need to provide an ink pad with this option.
Shipping: Please allow up to 3 weeks for this personalized product to ship, however we try our best to get it to you much sooner! We'll send you a tracking number as soon as your package ships so you won't have to wonder when it's coming!
Size: Stamp image measures approximately 1 5/8" x 1 5/8".